Venezuelan leader Nicolas Maduro has said he wants a meeting with US president Donald Trump – the man he ridicules as a crass imperial magnate and blasts for sanctions against officials in his socialist government.
In a lengthy address to the 545 members of a new, all-powerful constitutional assembly, Mr Maduro instructed Venezuela's foreign minister to approach the United States about arranging a telephone conversation or meeting with Mr Trump.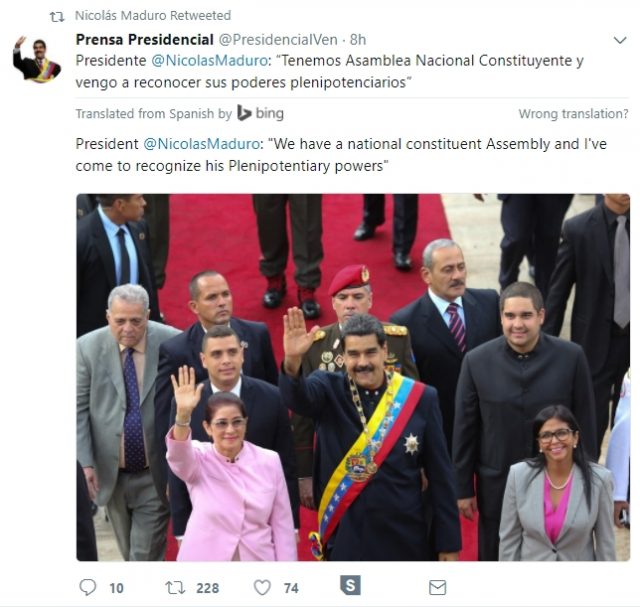 Mr Maduro tweeted before his address (Twitter/PA)
"Mr Donald Trump, here is my hand," the president said, adding that he wanted as strong a relationship with the US as he has with Russia.
The remarks came shortly after Mr Maduro forcefully warned Mr Trump that Venezuela "will never give in".
The Trump administration has called Mr Maduro a "dictator" and issued sanctions against him and more than two dozen other former and current officials, accusing Mr Maduro's government of abusing human rights and undermining the country's democracy amid an escalating political and financial crisis.
The United States once again calls for free and fair elections and stands with the people of Venezuela: https://t.co/ZL4zyVh8DU

— President Trump (@POTUS) July 17, 2017
On Thursday, Credit Suisse bank banned the trading and use of Venezuelan bonds. The bank will no longer trade, nor accept as collateral, two specific types of Venezuelan securities as well as any bonds the country issued from June 1 going forward, according to a company spokeswoman.
Any businesses wishing to do business with Venezuela and deal in any assets there will have to go through additional screening. In the memo, the bank cited "recent developments and the political climate" in the country for the ban.
Venezuela is facing mounting international criticism over a crackdown on opponents and moves to consolidate power, including the selection of the all-powerful assembly controlled by Mr Maduro.
The president said the nation's constitution was born of "violent commotion" (Twitter/PA)
It is in the midst of a severe economic downturn caused by low oil prices and poor government policies.
National Assembly president Julio Borges, leader of the country's opposition, has sent more than a dozen letters to leading global banks warning them of the risk to their reputations and bottom line if they throw a lifeline to Mr Maduro.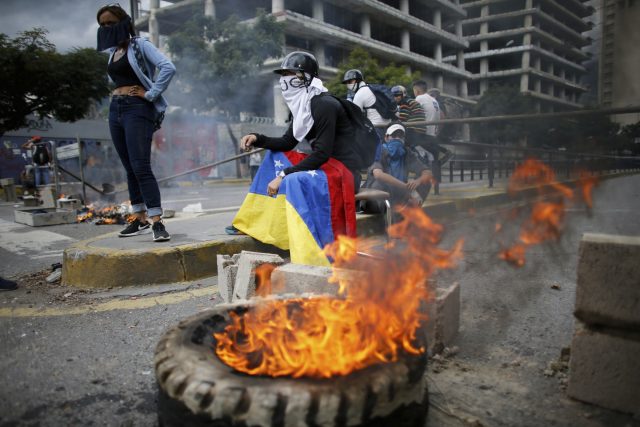 Masked anti-government demonstrators stand next to a burning tyre in Caracas (Ariana Cubillos/AP)
On Wednesday, a fifth opposition mayor in Venezuela was removed from his post.
A small group of young people set up barricades of strewn metal objects in the eastern Caracas district of El Hatillo on Thursday to protest against the Supreme Court decision to order mayor David Smolansky imprisoned for 15 months for not obeying orders to shut down the protests.
We can't allow "the dictatorship to hunt down, imprison and treat our mayors like criminals", said Andres Paez, a lawyer who joined the protest.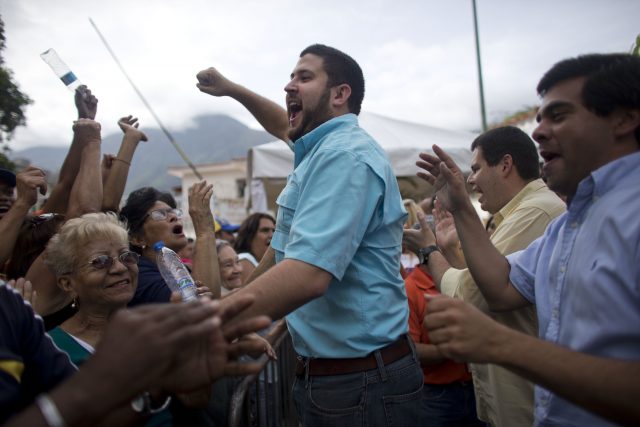 David Smolansky, mayor of El Hatillo district, faces arrest (Ariana Cubillos/AP)
Mr Smolansky issued a video from an undisclosed location in which he called on residents of the El Hatillo to take to the streets to uphold their right to representation against what he called the government's "political firing squad".
"I want to tell you all that I continue being a public servant by vocation and conviction," he said. "My commitment to restoring freedom in Venezuela remains intact."
According to figures from opposition leaders, about a third of the nation's opposition mayors have been removed from office or jailed or are under threat of arrest.